R&S Counter Fire Doors integrate the automatic fire protection system of a rolling fire door with the compact design and neat appearance of a counter door. These rated counter shutters are available in primed steel or stainless steel and with most of the same options as fire doors. Warnock Hersey 1 1/2-Hour Label or Oversize Certificate is furnished standard.
Acceptance of the listing for variations in wall construction should be verified with the building authority having jurisdiction.
Counter Fire Doors come with a 2 year/ 20,000 cycle warranty.  See Warranty Page for details
Part 1 General
1.01 Summary
A. Counter fire doors excluding design, construction and preparation of openings; finish or field painting; access panels; electrical wiring, conduit, wire, fuses and disconnect switches.
1.02 Quality Assurance
A. Certification: Counter fire doors are labeled or certified by Warnock Hersey, Underwriters Laboratories for the hourly rating, wall construction and size allowed by the listing.
Part 2 Products
2.01 Materials
A. Manufacturing: R & S Manufacturing, model L ___ Model SL ___ (for stainless).
B. Mounting: Face of wall or between-jamb.
C. Operation: Push-up to 12′ wide and awning crank on larger sizes is standard (awning crank should be considered when doors are to be operated over a deep counter of over 7′ high). Chain hoist or motor operation are optional.
D. Automatic closing: Thermally activated by 165° fusible links, with the closing speed regulated by a governor device operative only during automatic closing.
E. Curtain: Interlocking type 18 flat slats are roll formed from (galvanized steel) (stainless steel – 12′ max. width) coil. Gage of slats is as required by the listing. Endlocks are riveted to slats to maintain curtain alignment. Bottom of curtain is reinforced by a (single angle) (tubular) footpiece of material matching slats.
F. Guides: Box shape guides are formed from (steel) (stainless steel). Sizes of guides are as required by the listing.
G. Brackets: Steel plate brackets are bolted to guides to support curtain and barrel and provide mounting for hood.
H. Barrel: Steel pipe houses torsion spring assembly and supports curtain with a maximum defection of .03 inch per foot of width. Torsion springs are mounted on a continuous cold rolled steel shaft, adjustable by a tension wheel outside one bracket.
I. Hood: Formed from 24 gauge (galvanized steel) (stainless steel) sheet, reinforced with tip and bottom flanges to limit deflection. A thermally released integral flame baffle is provided when required by the listing.
J. Locking: Slidebolt locks on single angle footpiece and cylinder lock on tubular footpiece.
2.02 Finish
A. Galvanized steel slats and hoods are pre-finished with a baked on grey polyester primer before forming. Steel footpiece, guides and brackets receive one coat of rust inhibiting grey primer. Exposed stainless steel provided with #4 finish.
Part 3 Execution
3.01 Installation
A. Counter fire doors are to be installed by a R & S authorized representative in accordance with R & S installation instructions and NFPA-80.
3.02 Testing
A. Counter fire doors are to be drop tested and witnessed for proper operation and full closure after installation.
3.03 Schedules
A. NFPA-80 and model code groups mandate annual inspection and testing of fire doors to check for proper operation and full closure.
Counter Fire Door Options
Smoke Detectors: Photoelectric (detects smoke and heat) require connection to a release device with compatible voltage.
Perimeter Gasketing: Brush seals factory applied to guides and footpiece, field installed on header, to aid in smoke and draft control.
Vision Lites: Single or multiple 4″ wide cut-outs, glazed with clear wire glass (1 1/2 hour rating).
Powder Coat Finish: Available on all exposed surfaces, powder coating is a durable and decorative finish for steel or aluminum surfaces that provides longer life and requires less maintenance than a standard finish. Available in a variety of colors. Consult factory for color selection, applications and limitations.
Galvanized Finish: Hot dip Galvanizing available on footpiece, guides and brackets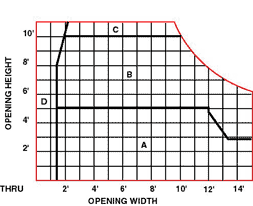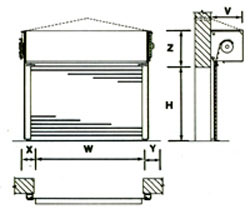 Head Room Requirements
Area
Z"
V"
A
12
10-1/2
B
14
12-1/2
C
15
13-1/2
D
Consult Factory
Consult Factory


Reduce 'Z' by 2″ with top hood flange turned down.
---
Side Room Requirements
Opening Width 'W'
X"
Y"
Up to 8'
4-1/4
4-1/4
8'-15'
5-1/8
5-1/8


R/H chain operation as shown – reverse 'X' & 'Y' for L/H.
Slat & Guide Details
Face of Wall Mounting Guide Detail
Tubular Footpiece Detail
Between Jamb Mounting Guide Detail
Single Angle Footpiece Detail
#18 Flat Slat


Steel slats are galvanized per ASTM standards, treated for paint adhesion and pre-finished before forming with a prime coat and baked-on grey or tan polyester top coat.
| | | | |
| --- | --- | --- | --- |
| Testing Agency | Underwriters Laboratories | Warnock Hersey | |
| File Number | R-9560-2 | WHI-495-0968 | |
| Hourly Rating | 3 Hour | 1 1/2 Hour* | |
| Wall Construction | Masonry | Drywall or Masonry | |
| Jamb Type | Concrete Block Brick | 16 ga. (min) Steel Stud, Steel Tube, Wood Stud, Concrete, Block, Brick | |
| Label Size | 12' Wide 7' High 84 Sq. Ft. Max. | 12' Wide 9' High 72 Sq. Ft. Max. | |
| Oversized | 15' Wide 7' High 84 Sq. Ft. Max. | 15' Wide 10' High 96 Sq. Ft. Max. | |


* Also available with 3 Hour rating on masonry construction.
Jambs must be continuous members from floor to structured above. Sizes and attachment of members is to be determined to provide adequate mounting and support for the size and weight of the door.
By Method of Operation- Face of Wall Mount
LFP – Push-UP
LFC – Chain
LFA – Awning Crank
LFM – Motor

For Between-Jamb Mount, change letter 'F' to 'J'