Grilles are the perfect product choice for shopping malls, airports and storefronts.  They allow customers to enjoy window displays when the store is not actually open.  Additionally they can be used to close off access to hallways and to separate businesses.
Please Note: Standard Duty Grilles are offered up to 16′ wide. For larger grilles please see our Heavy Duty Grilles.
Standard Duty Grille Doors come with a 1 year/ 12,500 cycle warranty.  See Warranty Page for details
Part 1 General
1.01 Summary
A. Aluminum grilles excluding design, construction and preparation of openings; finish or field painting; access panels; electrical wiring, conduit, wire, fuses and disconnect switches
1.02 Performance
A. Usage: Aluminum grilles are designed to operate a minimum of 20,000 cycles.
Part 2 Products
2.01 Materials
A. Manufacturer: R&S Manufacturing, model G ___
B. Mounting: Face of wall or between-jamb
C. Operation: Push-up to 14′ wide and 9′ high (with pull-down pole over 7′ high) and chain hoist on larger sizes is standard. Awning crank, crank box or motor operation are optional.
D. Curtain: Pattern 91 ___, formed with horizontal rods 1 1/2″ apart, connected by vertical links 9″ apart. Bottom of curtain is reinforced by an extruded aluminum tubular footpiece.
E. Guides: Extruded aluminum guides are bolted to structural steel wall angles. Guides are fitted with nylon pile wear strips.
F. Brackets: Steel plate brackets are bolted to wall angles to support curtain and barrel and provide mounting for hood.
G. Barrel: Steel pipe houses torsion spring assembly and supports curtain with a maximum deflection of .03 inch per foot of width. Torsion springs are mounted on a continuous cold rolled steel shaft, adjustable by a tension wheel outside or inside one bracket.
H. Locking: Slidebolt locks with push-up or crank operation and chain lock with chain operation.
2.02 Finish
A. Aluminum curtain, footpiece and guides are mill finish. Steel brackets and wall angles receive one coat or rust inhibiting gray primer.
Part 3 Execution
3.01 Installation
A. Aluminum grilles are to be installed by and R&S authorized representative in accordance with R&S installation instructions.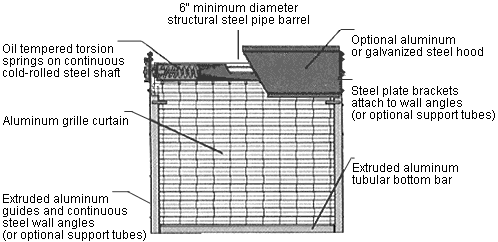 | | |
| --- | --- |
| Extruded aluminum guides and continuous steel wall angles (or optional support tubes) | Extruded aluminum tubular bottom bar |
| | |
| Face of Wall Mount (Masonry Jambs) | Tubes Mount (Typical Mall Installation) |
| | |
| Face of Wall Mount (Steel, Wood Jambs) | |
| | |
Standard Duty Grille Options
Support Tubes: Measuring 4″x4″ or 3″x3″ support tubes are attached to floor and structure above to provide mounting for grille.
Sloped Bottom Section: For door openings on a slope
Soffit Flange Cover: Measuring 5 1/2″ wide affixed to footpiece bottom is used conceal slot required for above ceiling installations.
Cylinder Locks: Installed on footpiece.
Hood Options: Galvanized steel or aluminum sheet metal is offered.
Fixed Grille Panels: Offered in situations where the opening is larger than the door. A static grille curtain is supported by a frame and secures the opening beyond the rolling grille section while providing a continuity in appearance.
Anodized Finishes: Offered include clear, dark bronze, gold and black on curtain, footpiece, guides and hood.
Tubular Motor Operator: Motors completely contained within the barrel can be provided for grilles up to 200 sq ft  in limited usage applications. Only the manual crank override is visible outside the bracket. The units are available in 115 volt/single phase with constant contact one button or key switch control. They can also be provided with a low voltage controller when options such as a 3 button station, reversing edge or timer are required.
Emergency Egress System: Recessed pull handle is provided in a flush mounted enclosure to mechanically disconnect motor operator allowing a partial grille opening for egress.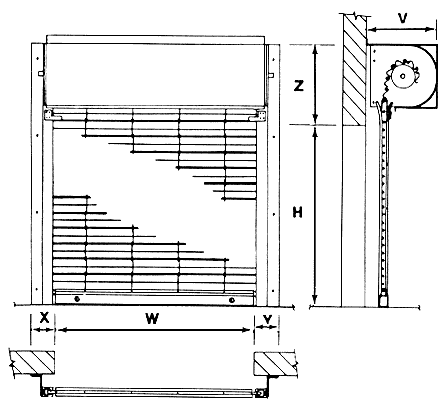 Clearance Requirements
Operation
W'
H'
X"
Y"
Z"*
V"*
Push-Up
Up to 14
Up to 9
6
6
20
15
Chain Or Crank
Up to 16
Up to 9
6
8
20
15
Chain Or Crank
Up to 16
9-16
6
8
22
17
Chain Or Crank
16-24
Up to 8
6
8
20
15
Chain Or Crank
16-24
8-14
6
8
22
17
Motor
Consult Factory
Consult Factory
Consult Factory
Consult Factory
Consult Factory
Consult Factory


R/H operation as shown – reverse 'X' and 'Y' for L/H
Standard Straight link pattern is offered for grilles in normal usage such as shopping malls and storefronts. All aluminum curtain is formed of horizontal rows of 5/16″ aluminum rods spaced 1 3/4″ apart to be connected by vertical 3/4″ aluminum links spaced 9″ apart.
For our optional heavy duty brick pattern please see our Heavy Duty Grille
By Method of Operation – Face of Wall Mount
GFP – Push-Up
GFC – Chain
GFT – Thru-wall chain
GFA – Awning Crank
GFB – Crank Box
GFM – Motor
For Between-Jamb Mount, change letter 'F' to 'J'
For Tube Mount, change letter 'F' to 'T'