R&S Aluminum Counter Doors offer compact design and attractive appearance. Anodized extruded aluminum components combine a light weight, smooth, bright finish and excellent corrosion resistance for a variety of applications. Counter door construction can be modified to provide anodized aluminum service doors up to 12 feet wide, 10 feet high and a maximum of 100 square feet.
Aluminum Counter Doors come with a 2 year/ 20,000 cycle warranty.  See Warranty Page for details
Part 1 General
1.01 Summary
A. Counter doors excluding design, construction and preparation of openings; finish or field painting; access panels; electrical wiring, conduit, wire, fuses and disconnect switches.
Part 2 Products
2.01 Materials
A. Manufacturer: R & S Manufacturing, model S ___
B. Mounting: Face of wall or between-jamb.
C. Operation: Push-up is standard (awning crank should be considered when doors are to be operated over a deep counter or over 7′ high). Chain hoist or motor operation are optional.
D. Curtain: Interlocking type 15 flat slats are extruded from 6063 alloy aluminum. Endlocks are riveted to slats to maintain curtain alignment. Bottom of curtain is reinforced by an extruded aluminum tubular footpiece with astragal.
E. Guides: Extruded aluminum guides are bolted to aluminum wall angles. Guides are fitted with nylon pile wear strips.
F. Brackets: Steel plate brackets are bolted to wall angles to support curtain and barrel and provide mounting for hood.
G. Barrel: Steel pipe houses torsion spring assembly and supports curtain with a maximum deflection of .03 inch per foot of width. Torsion springs are mounted on a continuous cold rolled steel shaft, adjustable by a tension wheel outside or inside one bracket.
H. Hood: Formed from aluminum sheet, reinforced with top and bottom flanges to limit deflection.
I. Locking: Slidebolt locks (cylinder locks are optional).
2.02 Finish
A. Aluminum slats, footpiece, guides and hood are clear anodized. Steel brackets receive one coat or rust inhibiting grey primer. (Dark bronze and other color anodized finishes are optional.)
Part 3 Execution
3.01 Installation
A. Counter doors are to be installed by an R & S authorized representative in accordance with R & S installation instructions.
Aluminum Counter Door Options
Cylinder Locks: Key or thumbturn cylinder lock installed on footpiece or guide for added security and convenience.
Finish: standard clear anodized finish may be upgraded to dark bronze or black
Tubular Motor Operator: Motors completely contained within the barrel can be provided for counter doors in limited usage applications. Only the manual crank override is visible outside the bracket. The units are available in 115 volt/single phase with constant contact one button or key switch control. They can also be provided with a low voltage controller when options such as a 3 button station, reversing edge or timer are required.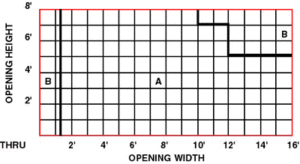 Door Clearance Requirements
Area
Headroom
Tension SideRoom
Power Side Room
Power Side Room
A
13-1/2
4-3/4
2-2/4
4-3/4
B
Consult Factory
Consult Factory
Consult Factory
Consult Factory
1) Reduce Side room by 1/4″ for Between-Jamb Mount
2) Reduce Tension Side Room by 2″ with inside tension
Door Guide, Slat & Footpiece Details
Face of Wall Mounting Guide Detail
Tubular Footpiece Detail
Between Jamb Mounting Guide Detail
#15 Aluminum Slat
By Method of Operation – Face of Wall Mount
SFP – Push-Up
SFA – Awning Crank
SFC – Chain
SFM – Motor
For Between-Jamb Mount, change letter 'F' to 'J'